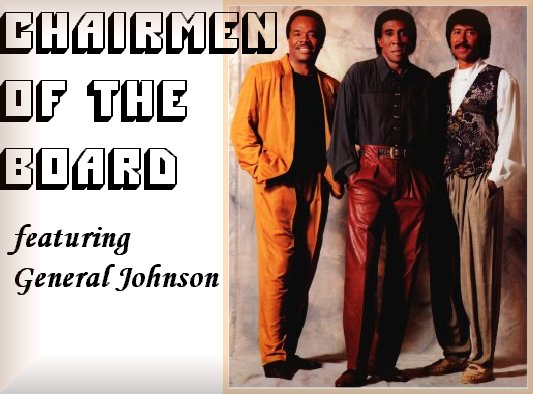 (The following article has been furnished by Insight Talents)
Professional, thorough and capable of appealing to audiences at attention, Chairmen of the Board is one of the most captivating groups of today. Few have survived the distance and time of General Johnson and the Chairmen of the Board. From small town churches to the eastern seashore, from New York City to L.A.'s Johnny Carson's Tonite Show, it has been a journey that few artists make.

At the age of 6 in his home town of Norfolk, Virginia, General Johnson began singing in church with his father. By the age of 12, his group "The Humdingers" were recording with Atlantic Records. But true luck would not hit until his senior year of high school when General and his band "The Showmen" were rewarded with a contract with Minit Records. This effort produced five singles including It Will Stand, a national anthem to beach music and also know as the International theme of Rock & Roll, and the smash hit 39-21-40 Shape.

In 1968, General Johnson began negotiating with Detroit based Invictus Records and legendary writers/producers Holland-Dozier-Holland. By 1969, the Chairmen of the Board were born.

The Chairmen's first release on Invictus was the million selling classic Give Me Just a Little More Time which was certified Gold by the RIAA (Recording Industry Association of America) and made it to number 3 on the Billboard charts. This momentum carried the next two releases, Everything's Tuesday and Dangling On A String, each to number 38. In 1970, another General Johnson penned tune, Pay To The Piper, has Danny Woods on lead vocals and was their second best selling record.
General Johnson has diversely affected and helped many other artists' careers. His continued success as a writer naturally captured the attention of various industry producers, managers, and major record companies who were looking for "potential hits" for their clients. The magic worked as Want Ads, Stick Up and One Monkey Don't Stop No Show were all million selling top charts hits for the group Honey Cone. In 1989, Want Ads was also recorded and performed by Arista recording artist, Taylor Dane. In 1970, General's multi-million seller and Grammy Award Winning Patches launched the career of Clarence Carter and made it to number 4 on the Billboard charts. Patches was also a major hit for country singer Jerry Reed. That same year brought General his second Grammy nomination for writing Somebody's Been Sleeping In My Bed which was recorded by the group 100 Proof and later recorded again by the rock group Foghat. General's talent for songwriting had penetrated every spectrum of the music realm. In 1972, he was bestowed the honor of "R & B Songwriter of the Year" award by BMI (Broadcasting Music, Incorporated).

As the second lead singer, Danny Woods' charisma and energy has absolutely no limits. As General reflects on finding Danny, "...we saw this guy jumping chairs and doing back flips. (He had) all this energy and people (were) going crazy." Danny, born and raised in Atlanta, Georgia, moved to Detroit at the age of 19 with the band "The Tears" looking for a deal in the Motor-City. That band broke up and Danny had a successful single act playing with such names as David Ruffin, Eddie Kendrix, Walter Jackson and a band that was later to become Rare Earth. During this stint as a single act, Danny was approached by an Invictus agent who introduced him to General Johnson. As fate would have it, Invictus was forming Chairmen of the Board and Danny became a permanent fixture.

In 1972, the latest addition to form the Chairmen of the Board was saxophone player Ken Knox. Ken, born in Charleston, West Virginia, moved at an early age and grew up in Detroit, Michigan. Listening to his brother play the saxophone in band, Ken would eventually perfect this instrument by sneaking an playing it while his brother was away. After playing with several local groups, Ken found himself in the major league playing with such national acts as Millie Jackson and The Detroit Emeralds. It was while playing with The Emeralds that Ken was spotted by Chairmen member Danny Woods and offered an audition. The missing link was mended.

The Chairmen of the Board have had considerable international success in Europe and England where they toured 6 to 8 months a year from 1972 until 1975. They have had many audiences of standing room only with sole out shows in such notable theaters as The Hammer-Smith Odeon Theater in London, England, The Apollo Theater in New York City, The Uptown in Philadelphia, The Warner in Washington, DC and Chastain Park in Atlanta, Georgia.

They have also made numerous TV appearances in cluding Dick Clark's "American Bandstand," Johnny Carson's "Tonite Show," Don Cornelious' "Soul Train," and "The David Frost Show" and have shared the stage with such legends as BB King, Jackie Wilson, The Isley Brothers, Earth Wind & Fire, Dion, The Four Tops, Nancy Wilson, and the Spinners just to mention a few.

Due to changes in the music industry, both political and non-political, in the late 1970's General moved Chairmen's headquarters to Charlotte, NC, where he and business agent Mike Branch formed their own record label, Surfside Records. This allowed General the freedom to write and record the type of music that he loves and is relative to the culture of the Carolinas. With the releases of On The Beach, A Piece of Candy, I'd Rather be In Carolina, Loverboy, and Carolina Girls, Chairmen of the Board was on their way to being one of the top names in the beach music scenario.

The Chairmen of the Board's popularity is still mounting today as they carry approximately 250 touring dates a year and continue to release such hits as Gone Fishin and I Wanna Doop Doop Doop Your Doo Wop She Doo Wop. Their album Alive and Kickin has been one of their most nationally appealing records.

The Chairmen of the Board continue to be the masters they always were. Covering all demographics from age 16 to 80, from the Black Tie Clubs to the Country Folk, they are stunning in their ability to create audience participation. For the veteran fan, a Chairmen show is an event culminating in high energy, laughter, and even solemn moments of reality ... as General walks you through Patches. Attracting repeat audiences continually, their enthusiasm is contagious. Catch General Johnson and the Chairmen of the Board. If you haven't, it's a must!!!
For booking information, contact:
Surfside Records
1409 East Boulevard, Suite 231, Charlotte, NC 28203
704.372.9918
(Tell 'em Betty B sent ya!)